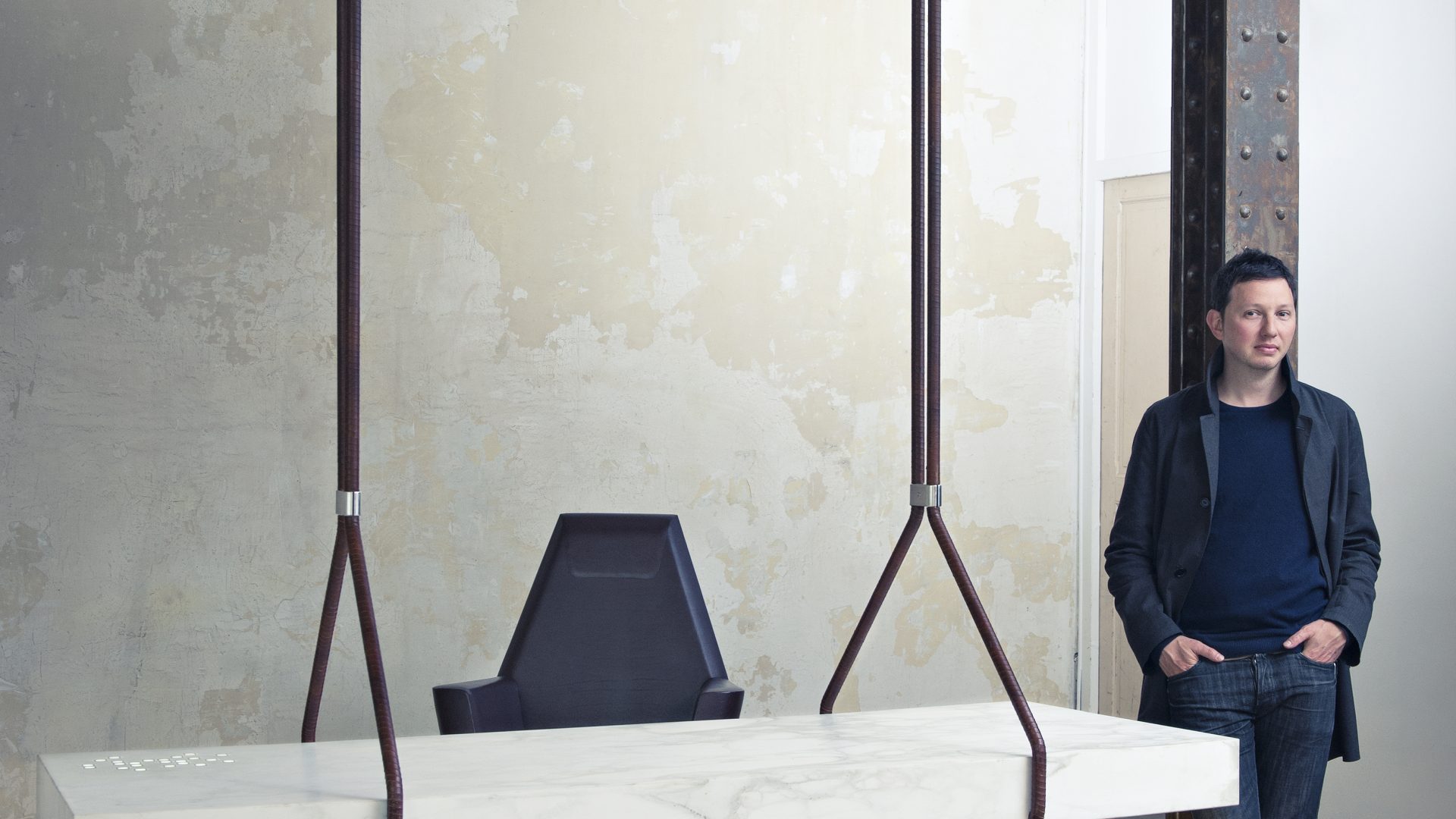 Ramy Fischler is a Belgian designer based in Paris, with an eclectic creative practice. After graduating from the École nationale supérieure de création industrielle ENSCI-Les Ateliers, he joined Patrick Jouin's agency in 2001. They worked together for almost ten years, during which time Ramy Fischler honed his taste for research, innovation and exploring new territories in design, taking the helm on numerous projects in the cultural, gastronomic and conceptual design spheres.
In 2010 he received the French Academy's Prix de Rome, where, in situ at the Villa Medici, he began to meditate upon the way in which visitors and artists approach and are received at the mythical site, and found inspiration in the history of the Villa's furnishings and their association with power. This research became the foundation for several exhibitions in Italy and Paris. Inspired by the interstice between history, space and furniture, and obsessed with questions of meaning, Ramy Fischler founded his own design agency, RF Studio, in 2011. In 2012 he undertook his first comprehensive design and furnishing of a private residence in Place de Colombie, Paris. In 2014, he was engaged as artistic director for Dom Perignon's P2 Plénitude Deuxième campaign.
Whether designing a new artisanal object, exhibition, industrial product or virtual interface, for Ramy Fischler, the process always provides the opportunity to delve into a new territory, to observe it, to draw out the subject and its potential, and to establish a collective synergy, the content and character of which are just as important, if not more, than the finished product. In his words, 'the exchange of ideas, research and experimentation that are fundamental for every innovation, are just as essential for the inspiration and development of creators as they are for the manufacturers or scientists who collaborate increasingly to bring them to fruition.' The combination of different ideas and areas of knowledge—a permanent feature of his practice—means he can uncover and integrate techniques and issues, which are in perpetual flux.
The designer's artistic approach reveals his dual outlook on his environment which is directed both inwards—as a participant, a user, an actor—and outwards—as a critical observer of what seems to be, or could become the central design concern. Digital surveillance, the science of sleep, electronic music instruments and rapid prototyping technologies are among current topics with which Ramy Fischler has been engaged in recent years, working alongside researchers, doctors, engineers, programmers, manufacturers, lighting designers and composers.
Conscious of the importance of transmission of knowledge, he occupied the role of Director of Studies at ENSCI-Les Ateliers for several years, was Visiting Artist-Professor at Le Fresnoy–Studio National des Arts Contemporains, and recently Guest Professor at the École Camondo, lecturing on innovation and new uses and functions.
In 2016, Ramy Fischler was awarded the Order of Arts and Letters by the France's Department of Culture and Communication.